MISSION MOMENT
At SouthCol, we are driven to help clients pursue their mission. Here is a client story that inspires us. We hope it inspires you.
Galesburg's Sustainable Solution to Food Insecurity
Located in western Illinois' Knox County, the city of Galesburg has a rich history as an important railroad hub, the site of a famous Lincoln-Douglas debate, and a stop on the underground railroad. Since 2004, Galesburg Community Foundation (GCF) has worked to improve the quality and health of its community through effective philanthropy – connecting people to the causes they care about most.
In 2020, with a myriad of new challenges brought on by the pandemic, the Foundation felt a need to serve local families in a more direct way.
"The pandemic made us think bigger," said Shawn Hedden, Chief Financial Officer of GCF, "we realized that we needed to be more than just reactive granters – the time called for a more proactive foundation."
How The Galesburg Food Bank Idea Was Born
As COVID-19 pushed millions of families further into poverty, it underscored the severity of social challenges affecting communities nationwide, including access to affordable housing, equitable health care, and fair wages.
For Knox County, whose food insecurity rate before the pandemic was nearly 24% higher than the national average, hunger has long been considered one of the most straining issues.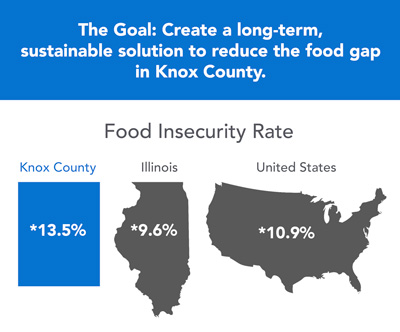 Mission Investments
Working collaboratively with grant applicants and organizations, GCF quickly realized that local hunger can only be eradicated if upstream causes are addressed. From this collaborative effort was born the idea of a centralized food bank in Galesburg to improve the delivery of emergency food and support to frontline organizations combatting hunger.
"We see mission impact investments like this as a way to complement our grantmaking. The dollars we earn from the investment are going to increase the granting dollars we have available, too. Ultimately, this way we can achieve our mission of strong, healthy communities even faster," said Joshua Gibb, GCF's President and CEO.
Simply put, a mission impact investment, often referred to as a "program-related investment", is an opportunity for organizations to direct resources to initiatives that reflect and empower their institutional mission. For GCF, the Food Bank – a mission impact investment in real-estate – is a way to reach the most underserved population in its community.
Mission in Action
The initiative was met with strong community support, including a generous donation of land by the city of Galesburg upon the Foundation's purchase of a suitable building in 2020.
With the support of visionary GCF board chair, Dr. John McClean, a partnership was formed between the Foundation and River Bend Food Bank––the largest hunger-relief organization in eastern Iowa/western Illinois.
The partnership will bring a much-needed distribution hub to Galesburg––expanding existing infrastructure and providing access to nutritious and perishable foods for more than 50 food pantries in the region.
Upon completion in Fall 2022, the Galesburg location will become home to the River Bend Food Bank and FISH Food Pantry of Galesburg. The impact of this project will potentially stretch across 23 counties, leveraging a network of 300 partner agencies (food pantries, meal sites, schools, and community organizations) to bring food to the most underserved communities in the region.
The food bank will potentially help the River Bend Food Bank serve 5.5 million meals in the area by 2025.
Summarized SouthCol's James Lumberg, "The River Bend Food Bank – Galesburg Branch is an example of innovation in the face of adversity. We are thrilled to collaborate with Josh and the team on a financially sustainable solution that will generate both a measurable social impact and a financial return."
SOURCES: Galesburg Community Foundation, River Bend Food Bank, Feeding America
*As of 2019, Feeding America