BOOKS THAT EMPOWER – 2022
ENDURANCE
By Alfred Lansing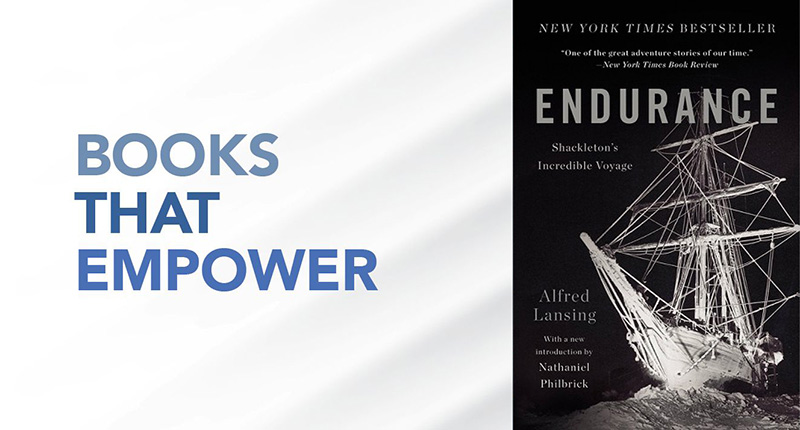 Each year, SouthCol Advisors chooses a book that it believes is both inspirational and empowering; a book that broadens perspectives and challenges its reader to expand their understanding of what's possible.
SouthCol Advisors is pleased to announce ENDURANCE: Shackleton's Incredible Voyage by Alfred Lansing as its "Books That Empower" selection for 2022.
SouthCol founder James Lumberg explained this year's selection stating, "Shackleton's team understood and respected what is considered the harshest and most unforgiving environment on earth. Their fantastic journey – and ultimate success – provides a timeless example of what is possible when we work toward a shared mission."
ENDURANCE
Called "one of the great adventure stories of our time" by the New York Times Book Review, ENDURANCE is the definitive story of James Shackleton's ill-fated attempt to reach the South Pole in August of 1914.
SouthCol is proud to present each of its clients with a copy of ENDURANCE, with the hope that it will inspire their work and mission.
In partnership with The Galesburg Community Foundation, SouthCol is donating copies of ENDURANCE to local literacy organizations in Knox and Warren Counties.
Shackleton's ship – Endurance – became locked in ice and thus began a journey for survival. For 17 months, Shackleton and his crew of 27 men lived together in camps on the ice. As narrator Alfred Lansing tells their extraordinary story, we witness timeless lessons of selfless leadership, shared purpose, optimism, and civility.
The discovery of the ship Endurance – still largely intact – in 2022 has renewed public interest in the famous exploration. Though Shackleton never reached the South Pole, his legacy of courage and leadership still inspires.
Alfred Lansing
Born and raised in Chicago, IL, Lansing (1921-1975) served in the U.S. Navy from 1940–46, where he received a Purple Heart for his service. After serving in the military, Lansing attended Northwestern University, where he majored in journalism. After a short stint as a newspaper editor in Illinois, Lansing joined the United Press and later became a freelance writer. As a freelance writer, Lansing spent much of his time in New York writing for the books section of Reader's Digest and Time Inc. Lansing would later become a member of the Scott Polar Research Institute, Cambridge, England in 1957. After a lengthy career as a writer both nationally and abroad, Lansing eventually returned to Chicago to become the editor of the Bethel Home News. Lansing is best known for his best-selling book ENDURANCE: Shackleton's Incredible Voyage.