BOOKS THAT EMPOWER – 2021
CALL US WHAT WE CARRY
By Amanda Gorman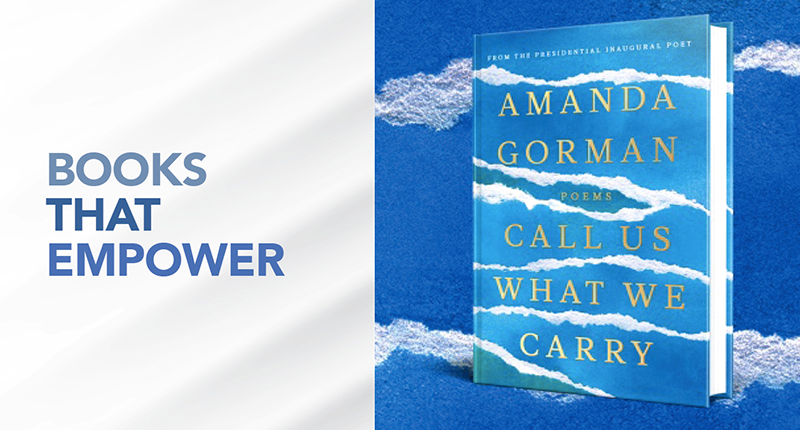 Each year, SouthCol Advisors chooses a book that it believes is both inspirational and empowering; a book that broadens perspectives and challenges its reader to do better.
SouthCol Advisors is pleased to announce Call Us What We Carry by Amanda Gorman as its "Books That Empower" selection for 2021.
SouthCol founder James Lumberg explained this year's selection stating, "This year, poetry has educated, empowered, and enlightened us. Through her words and prose, we believe that Amanda Gorman captures the energy and optimism of a new and promising generation."
Call Us What We Carry
Released on December 7, Call Us What We Carry is one of the most anticipated books of the year and debuted as a New York Times bestseller.
In Call Us What We Carry, Gorman explores the collective grief of a global pandemic and turns it into a poem of hope and healing. She leaves no stone unturned in her poems, exploring history, language, identity, grief, and erasure to reflect on our past and be a voice of hope for the future.
SouthCol is proud to present each of its clients with a copy of Call Us What We Carry, with the hope that it will inspire their work and mission.
In addition, on behalf of its clients, SouthCol will also donate copies of the book to Chicago's By The Hand Club for Kids for the school's library.
Amanda Gorman
The first person to be named National Youth Poet Laureate, Amanda Gorman is the youngest presidential inaugural poet in U.S. history. Raised in Los Angeles, Gorman is a graduate of Harvard University, where she studied Sociology. Her inaugural poem "The Hill We Climb" generated critical acclaim for its ability to inspire hope.
The Gift of Empowerment
Concluded James Lumberg, "Amanda Gorman's poetry is eye-opening, energizing, and contains messages of resilience, hope, and healing. We thought it was the perfect book for 2021."